Customer Reviews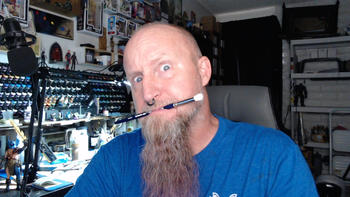 10/08/2023
Proved Me Wrong
So at first I was reluctant to buy into the brushes, but order after order has delivered amazing quality. I missed out on the big batch but was still able to grab 3 of these beauties and yep, they proved me wrong. The softness and rounded tip really allow for a lot of ways to dry apply from highlights to dappling effects. Now I just need to be on top of the next batch so I can get more sizes!!!!!
John L.

United States
10/20/2023
Best paints ever
Fewer colors than other lines worried me at first. Then I used them. The colors available are amazing, and I was even able to quickly match an odd skin tone on a wooden doll I was fixing. Really spoiled me to where I don't want to use other paints.
Andrew E.

United States
10/06/2023
DD3
I use this brush for stippling base coats when I want texture and a weathered look. It's insanely durable and it holds hairs nicely. Good after use maintenance this brush will last Avery long time
Russell H.

United States
03/26/2023
Amazing!!
Everything I have purchased from Monument Hobbies is top of line The videos that are available explain everything and how to use it
Russell H.

United States