Customer Reviews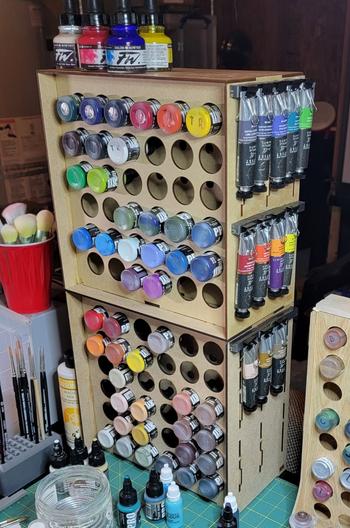 01/23/2023
Nice rack!
I love that it's modular so it can connect to other racks. It's pretty easy to build too.
Kyle Y.

United States
01/11/2023
a little fiddly
I wasn't expecting it to be so deep, but makes sense since it's part of a system, though it does seem top heavy as other reviewers stated. putting the paints in the slot is also a little fiddly, it probably would have been better if it was angled even slightly, since if it tips, all the paints could slide out. I am debating on buying another one, since that will hold a large portion of the paints, though at this point I may need to buy two more to ensure I have room for the paints, especially considering my very limited desk space, I need to think about how I'll do that.
Chris

United States
01/02/2023
A Monument to Our Hobby
I started using Pro Acryl paints before Monument had their own web site, when they were sold through Creature Caster and haven't stopped using it since. The viscosity is near perfect, requiring little to no thinning. The coverage is smooth, the colors vivid, and the finish is matte. Of course now that I have a few sets of this amazing paint, I needed a rack (or two) to store them in my work area. These are easy to assemble and very sturdy. Finally, I recently tried Uncle Atom's synthetic brush set and it's among my favorites, used on every model I paint. Whether air brushing or brush brushing, if you love painting models and miniatures I highly recommend you try Pro Acryl paint from Monument Hobbies.
Doug P.

United States
12/10/2022
Excellent and quick service
Great company to work with and the on-line site is one of the easiest I've found. Highly recommended to all.
Kevin H.

United States
11/18/2022
Alright, but arguably better upside-down
It holds Pro Acryl bottles well enough, but it ends up both front-loaded and bottom-heavy, thus prone to tipping if installed and placed as pictured. If a flat face is on the bottom, the setup looks a bit less clean but it becomes much harder to shift. That's kind of important, since it shares the main flaw of just about any side-loading paint rack — it only needs to tip a few degrees forward to start dropping lots of bottles. On the upshot, the bottoms of the paint bottles give you a clear, unobstructed view of the paint colors, and just two racks would neatly hold the whole paint range on the corner your work table.
Alex

United States