Customer Reviews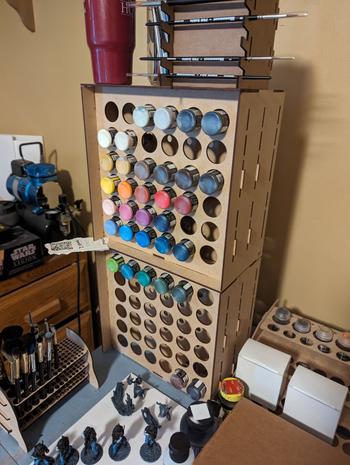 08/01/2023
Excellent!
Just a little wood glue, and it holds together sturdy. I have 2 and they stack perfectly. Also, these are some of the most affordable paint holders on the market that fit monument paints. Simple and effective.
Josh B.

United States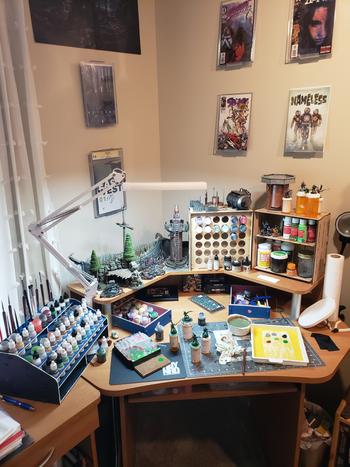 05/24/2023
Pretty Great!
Overall, I really like this product because it has greatly improved my desk organization. Discovering the terrific line of pro acryl paints has led me to needing a space to store them. This rack fits the bottle sizes perfectly. It is meant to be popped together assembly but definitely needs wood glue to stand on its own. The tackiness of the glue helps with construction as well. The only downside is that the rack does not allow you to see the labels of the paints leading to accidentally grabbing similar colors. Already getting used to this though and enjoy the product.
Evan

United States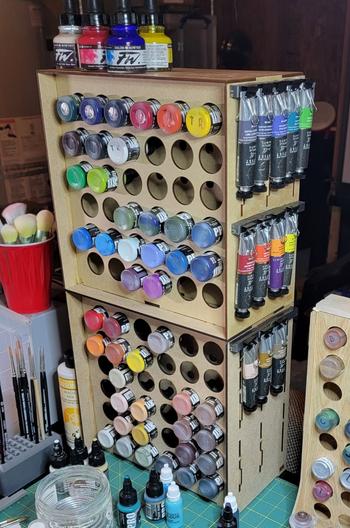 01/23/2023
Nice rack!
I love that it's modular so it can connect to other racks. It's pretty easy to build too.
Kyle Y.

United States
07/20/2023
Every thing from monument is high quality
Amazing love how it fits all my new monument paints and it's made my studio that much more professional looking. I walk into my paint studio now and I can't help to take a deep breath and smell the lovely scent of craft wood. Thank you guys for building such high quality gear for us.
Henry B.

United States
05/16/2023
Stellar Rack System!
I've owned a number of MDF racks from Monument through the years. Adding another rack to house paint was painless as they piece together like a glove. Assembly took less than 10 minutes. Will likely need more.
Steven C.

United States