Customer Reviews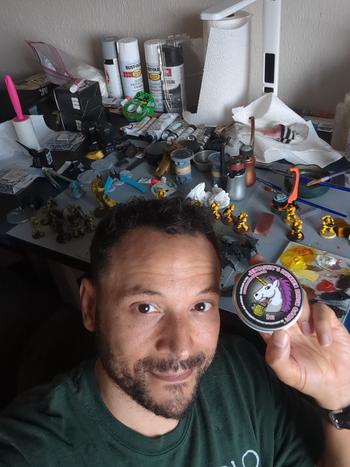 08/23/2023
Enjoying your products
I'm very satisfied with your Bomb Wick sable brushes. I enjoy the initial run of Pro Acryl paint that you started with. I'm looking forward to the Uberliner signature paints you have recently released. I am glad that I'm finally able to try your brush soap as well. I think your products are priced correctly. I definitely like your stickers as well as your tutorials and friendly presence at conventions. Thank you to all of your team!
Alexander W.

United States
10/27/2023
Works great; Tastes like Soap
I love how well this product worked on my brushes, but it tastes awful. Which I recognize should not matter. Thus 5 stars. Someday I will teach myself to not lick my brush by coming back to this product. That day is not today. Until then know that your brush soap...tastes like soap.
John M.

United States
09/13/2023
It's Jentastic
It cleans the paint off my brushes pretty well, but where it really shines is in its ability to restore and keep brushes in shape. Even my crappier brushes have never looked better.
Nathan M.

United States
07/10/2023
Only brush soap I use
Amazing product , my brushes have never been cleaner and in better shape
Robert A.

United States
06/29/2023
Great Brushes!
These brushes maintain their point really well for my use. Everything I have purchased from Monument has been spot on... earned a customer for life.
James F.

United States