Customer Reviews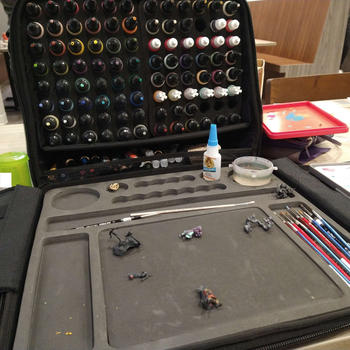 01/25/2023
GoBag Evo.
This item is great - exactly what I've been looking for in a travel bag for my painting needs. Fits all of Monument Hobbies current line of paints (only ones i don't have are the metallics and there is at least 12 slots still available for them), which includes the new 12 that came out at the same time as the bag. Lots of room for a wet pallet and brush box. gap under the paints which i have used for some additional tube-artist paint. And there is still the back compartment for if you have larger items you like to take with you. Paint compartments will hold paint other than monument paint, however, the holes are larger so if you tip it forward while open they will slide out, during transport and use of item they are fine in there. Side panels are Velcro attached, as is piece holding paints up so there is some adjustability into the bag as well. Paint holders are foam and can be removed from the bag. Small cons: The flaps that cross over the work area don't go all the way to the bottom, so about the top two rows of monument hobbies paints make indents into the work surface during travel - doesn't harm anything that i can tell, just something to be aware of. Other thing of note that should be expected: when it is fully loaded with paint it is fairly heavy on the shoulder strap. Hand Handle is still very comfortable to use. Was cheaper shipping costs to have item sent to Canada separate from my paint order; however, be aware UPS charges more than customs charges to take it through the border to Canada. Customs charges were fine - UPS charges were shocking and unexpected. Overall good solid product and feels like it is durable. Love the included paint space and that I have a dedicated way to transport my monument hobbies paint.
Nicola L.

Canada
02/21/2023
Top notch travel/storage bag
This bag is a fantastic choice for a mobile hobby station, or even a home hobby station for folks who don't have room for a dedicated hobby space. Very sturdy construction combined with a well-thought-out design provides enough room for everything you need. I really love this bag and it has replaced some older, much less compact paint racks on my hobby desk.
Nicholas S.

United States
02/10/2023
Liberated from the confines of my Hobby Dungeon
Best hobby money I have ever spent (besides replacing all my old paints with Pro Acryl). I travel 80% of the year.The GoBag Evo has made taking my hobby with me bulletproof. There is no excuse not to take my Hobby anywhere I want.
Jeffrey B.

United States
02/07/2023
The Best Kind of Baggage
Wow. Just wow. This is one of those purchases that feels so unnecessary at first, but I can say after using this bag for the past couple weeks that it is an essential hobby tool. I backed an unsuccessful Kickstarter a few years ago that was billed as a mobile hobby station, so I've been looking for something to fulfill that need ever since (especially because my own attempts were so lackluster). Everything about this bag is so well thought out, and because of that I've found myself hobbying more than I typically would. An added plus is that now I can close up my work station in seconds and not have to worry about my toddler grabbing paints and/or other tools I've forgotten to put away off the desktop. As a side note, I've been using Monument products since 2020, and got to stop by their former HQ in late 2021. My firsthand experience with this team is that they are not only the best kind of HBYNRDs, but they are genuinely great people as well (looking at you Jentastic!). I cannot wait to see what they come up with next.
Will L.

United States
02/07/2023
The Go Bag we needed.
What can I say about this bag. It has room for everything! Everything you may need to paint at a location other then your primary hobby desk. Over all quality is fantastic. I have recommended this to everyone at work and all my friends. Great Job Monument.
Shane

United States