Customer Reviews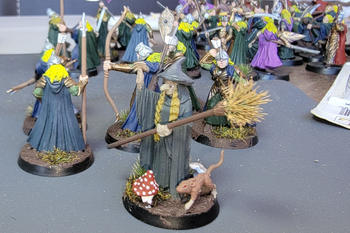 01/02/2023
Getting back into painting
I had not painted any miniatures in a number of years, and I had wanted to get back into it, though most of my old paints had dried out by this point from the heat and just time in general, I used to use citadel paints from GW though they had changed all the names around and I wanted to do some research to see if I could find something cheaper and better quality, I eventually found monument hobbies from watching a number of YouTube videos and the price for the amount of paint that you get in a single bottle was defiantly a better deal than GW. So I carefully selected the paints I needed to paint some elves from the middle earth SBG, they arrived and I started going just going for it, as a novice painter I know I made mistakes but that was fine, something to note I have been using a wet pallet for the first time, the paints seemed to work great, a little thick for most which has been a plus for me using the wet pallet which allows me to learn to thin down the paints, when I would leave them over night though on the wet pallet, some of the paints would separate the ones that would do it the most was the Camo green which seemed to draw the water into it far more than the other colors, Tan flesh also would separate though I could usually still use it somewhat, and the Golden yellow though it was also more oily and weird, I have had the most problem with the yellow, it seems off compared to the other paints to me, the seam on the cap also cracked and the yellow oozed out, though with my recent purchase Monument hobbies was very kind and sent a replacement lid. So to wrap things up, I have been really enjoying using the new paints and for the most part have been working fantastic save for the separating and the yellow, though take it all with a grain of salt as the only other experience I have is with GW a long while ago, I defiantly would buy from them again as I did, and I look forward to trying out the green Transparent paint I bought when the weather is a little more permitting . -I hope everyone who reads this is having a great day and I would say using my own star scale pro acryl is a 3.5. with 3 being a bit above average 4 being great with no issues to speak of and 5 being the best paint that I think could exist and as such nothing better could be.
Bob W.

United States
09/22/2023
Collect them all!!!!
These paints are the best thing to happen to my painting skills
John L.

United States