Customer Reviews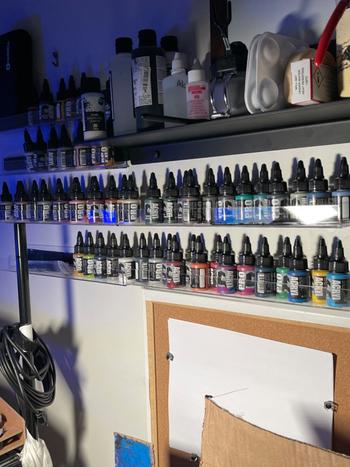 02/28/2023
It's a no brainer!
This paint is pigment rich and being able to thin them down so much without the use of a medium is absolutely fantastic. I almost have the full line with the exception of #3 and Vince's, but not for long All the colors I've used so far are great. This paint line has has won me over and replaced pretty much all my G.W paints. The price for the paint we're getting both size and quality is well worth it in my opinion. I think My only gripe is not being able to purchase the sable brushes for a long while now. You have a returning customer for sure. Now get those brushes in stock!!
daniel c.

United States
10/15/2023
Great paints!
Had heard a lot of good things about the Monument paint so decided to try them out. Paints are great, nice coverage whether hand or air brushing! Color selection is awesome as well.
Michael C.

United States
09/07/2023
Excellent product
Great all around for painting using many different techniques. Airbrush, brush or washes. These guys got ya covered.
Cam B.

United States
08/18/2023
Excellent!
Hands down the best paint for miniatures I've ever used. The application was effortless and smooth, with a perfect matte finish.
Matthew D.

United States
08/03/2023
Great paint
One of the best paints I have used, in addition to super fast shipping to Mexico
Luis A.

Mexico