Customer Reviews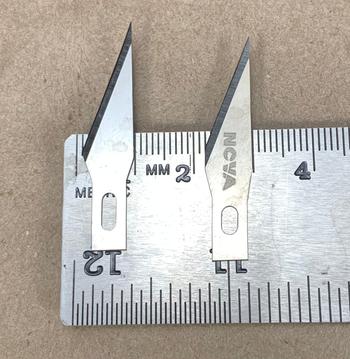 03/09/2023
Doesn't Work With All #11 Blades
I really like the build of this knife. High quality, tough plastic body. The retracting mechanism has three different setting so you can partially extend the blade, which adds rigidity that is perfect for scraping mold lines. My problem is that, even though it looks like it takes standard #11 blades, it's not compatible with all brands of #11 blades, including my preferred brand.
Chris

United States
03/06/2023
Great tool!
It functions as it should. It is nice that it doesn't roll and that I don't have to worry about losing a lid.
Josh A.

United States
01/15/2023
Hobby Knife
Really great knife. Like the grip and really handy in comparison to the round standard hobby knifes. Great design.
Karl F.

Canada
01/02/2023
Very Sharp, Very Good Quality
Arrived in a very timely manner and has remained sharp
Christopher B.

United States
12/15/2022
Worth the hype
First order after hearing tons of good things about the paints and accessories. Ordered the retractable hobby knife, some new cutters, pro synthetics, and some paint. The all of the accessories are super high quality and the brushes have been some of the best synthetics I've used. The two paints I ordered (rich gold and bold titanium white) have ruined other brands metallic golds and white paint for me. Will definitely be buying more of the paint range and supplies from Monument!
Jason S.

United States