Customer Reviews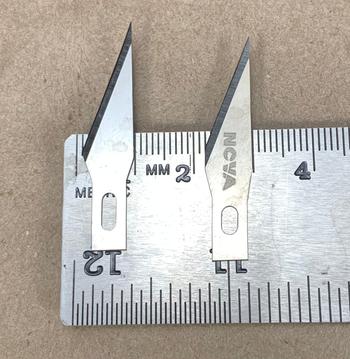 03/09/2023
Doesn't Work With All #11 Blades
I really like the build of this knife. High quality, tough plastic body. The retracting mechanism has three different setting so you can partially extend the blade, which adds rigidity that is perfect for scraping mold lines. My problem is that, even though it looks like it takes standard #11 blades, it's not compatible with all brands of #11 blades, including my preferred brand.
Chris

United States
08/24/2023
One of the must-haves for any modeler
Fantastic item, hands down one of my first recommendations for any hobby Every Day Carry. The obvious safety feature of the retractable blade is the main selling point, but the retractable blade also lets you choose the length of accessible blade. This has been a wonderful feature for sculpting and working in tight spots.
Daniel P.

United States
04/09/2023
Stop Stabbing Yourself and Start Hobbying!
My absolute favorite hobby knife. Great for a mobile hobby kit. If you hate stabbing yourself by accident like I do, this is The hobby knife for you!
Jay M.

United States
03/22/2023
Awesome
Loved this product. My first retractable knife and its worth it. Highly recommeded!
Sam C.

New Zealand
03/06/2023
Great tool!
It functions as it should. It is nice that it doesn't roll and that I don't have to worry about losing a lid.
Josh A.

United States