Customer Reviews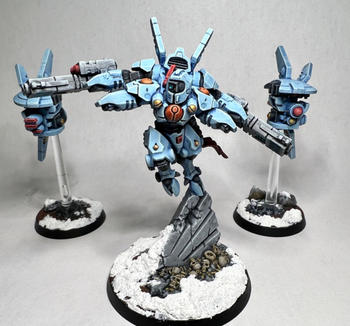 01/04/2023
Too quality paints..
Love the paints, they're my new go-to for miniatures.. however, I am not a fan of the "no clog" dropper tops.. I wish there was an option to select which top I wanted without having to buy the alternative tops separately!!
Lance G.

United States
02/02/2023
Love these paints and the range as a whole. Really like how well the colors blend.
Christopher B.

United States
01/05/2023
Favorite opaque paints hands down!
These paints are great. I have yet to try the transparent range, but the base and expansion set I do have are my favorite paints and my Vallejo and citadel paints are no longer in rotation.
Brian R.

United States
01/02/2023
Good colors
It's a very strong set of colors, with good opacity and consistency compared to similar shades in other brands. My favorite in this set is the Bright Neutral Grey, which manages to be a really light color while still very opaque. It makes it a great base color if you are trying to do underpainting. On top of it, even a weak yellow, red or green will be very bright with a single, thin coat. It also makes for a great middle tone for realistic whites, leaving the Bold Titanium White for highlights.
Jorge M.

United States
12/13/2022
Only paints I use
I started using Reaper and Citadel paints like many others. I have some experience with other brands but I absolutely love ProAcryl and will only use these paints moving forward. The control I have over thinning the paints is great, and they out perform every other paint I have used. Keep up the great work Monument Hobbies.
Daniel

United States