Customer Reviews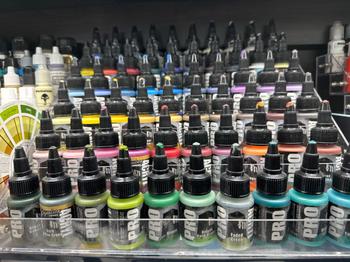 04/19/2023
Best in the business
I love pro acryl paints & brushes. I also love the team. They always send stickers and a personal note of thanks every time I order. Outstanding customer service and products.
bryan m.

United States
08/18/2023
New to the Hobby
I love working with Pro Acryl paints. They are some of the most instinctive paints to start with, and once I grew bold enough to start blending paints, these became the perfect paints all-around for me to want to work with.
Blake B.

United States
04/13/2023
Love your paints! Your transparent line is excellent.
Bradford W.

United States
02/01/2023
I Perfectly Grimey Brown Black
This is my go to paint for making industrial metal. When thinned, it's a somewhat motor oil color. Apply it over virtually any silver and it makes a perfecly grimey metal. I 100% recommend this for any grimdark fan.
Darcy B.

United States
12/01/2022
Awesome
Use to make my own dark wash and it's fantastic. Or just throw on top of a zenithal highlight and call it done. Love it.
Nicholas W.

United States